Current Issues
Prof. Dr. Bülent Bilmez (Istanbul Bilgi University): »An Unrecognized Genocide with an Unwritten History: Dersim Genocide in Turkey (1937-38)«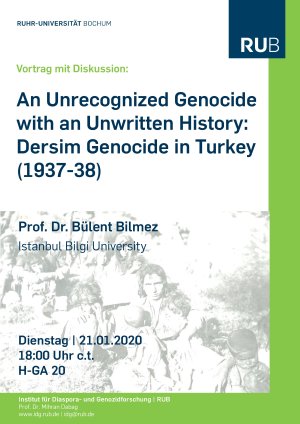 Public lecture.
Discussion in German and English

Tuesday, 21.01.2020, 18:00 Uhr c.t.
H-GA 20

Just published: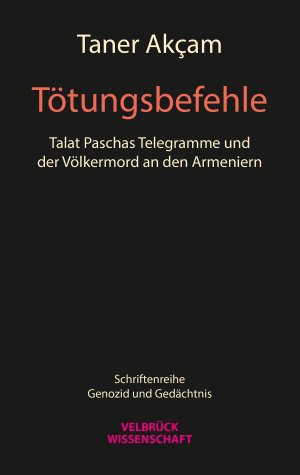 Taner Akçam: Tötungsbefehle. Talat Paschas Telegramme und der Völkermord an den Armeniern, Weilerswist: Velbrück Wissenschaft 2019
Congratulations on a successful Habilitation!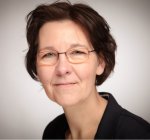 On June 12th, 2019 Dr. Kristin Platt successfully completed her Habilitation at the Faculty of Humanities and Social Sciences at the Humboldt-Universität zu Berlin with a written work on "The Names of Catastrophy" and a public lecture on "The Infantryman of the Future On military conceptions of a function-related soldier ".

We are very happy and congratulate!

"The Global Turn? Holocaust Remembrance and Genocide Education in the 21th Century" - IDG-Visiting Research Fellow Prof. Dr. Anette Homlong Storeide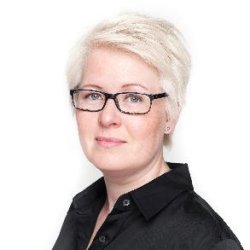 Prof. Dr. Anette Homlong Storeide, Associate Professor in German and European Cultural History at the Norwegian University of Science and Technology (NTNU) in Trondheim/Norway, will work in the Institute for Diaspora Research and Genocide Studies due to a one-year Visiting Research Fellowship. The Fellowship is funded by the NTNU to strengthen international cooperation on the field of Holocaust and Genocide Studies as well as Holocaust Education. During her stay at the IDG/RUB Prof. Homlong Storeide is working on her research and publication project The Global Turn? Holocaust Remembrance and Genocide Education in the 21st Century.
The IDG has moved: New offices in GAFO 02

It's done: we've moved! From now on the IDG is no longer in the building NA but in the GAFO 02.

The Secretary's Office is in room GAFO 02/384.
Prof. Dr. Taner Akçam (Clark University, Worcester MA, USA): "The Killing Orders of Talat Pasha and the Denial of Armenian Genocide"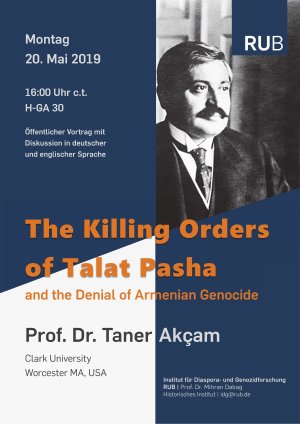 Public lecture.
Discussion in German and English

Monday, 20.05.2019, 16:00 Uhr c.t.
H-GA 30

A unique feature of the Armenian Genocide has been the long-standing efforts of successive Turkish governments to deny its historicity and to hide the documentary evidence surrounding it. Denialists claimed that there was no central decision taken by Ottoman authorities to exterminate the Armenians and all available documents that indicate otherwise are either fake or were doctored by Armenians.

In his lecture Taner Akçam provides a major clarification of the often-blurred lines between facts and truth with regard to these events. Akçam both brings to light documents either hidden or destroyed by the Turkish government that contain the killing orders, as well as demonstrates the authenticity of these orders, which had been sign by Ottoman Interior Minister Talat Pasha.
Just published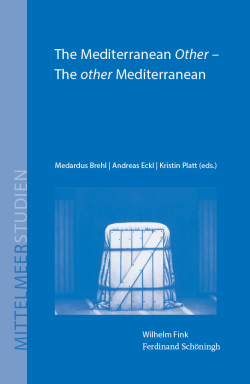 The Mediterranean Other - The other Mediterranean
ed. by Medardus Brehl, Andreas Eckl and Kristin Platt
Paderborn: Wilhelm Fink/Ferdinand Schöningh 2019

Today, we particularly encounter the Mediterranean Other in the "refugee". Scientific, political and public discourses on the Mediterranean are - continuously or most recently? - determined by hegemonial perspectives.

Considering other perceptions, interpretations and representations seems to be impossible in light of financial crises, the new South, blurring borders and unclear securities. The contributions in this volume dispute this form of thinking. The research papers do not only encourage the reader to critically examine current political developments. They also provide a framework for Mediterranean minorities, nongovernmental groups and diasporas in search of their own voice.

With contributions by Cristina Balma Tivola, Julia Blandfort, Paolo Giaccaria, Shlomo Lotan, Anna Piotrowska, Kristin Platt, Christopher Schliephake, Paul Silverstein, Anna Tozzi Di Marco, Felix Wiedemann.
Journal for Genocide Studies, Vol. 16, 2, 2018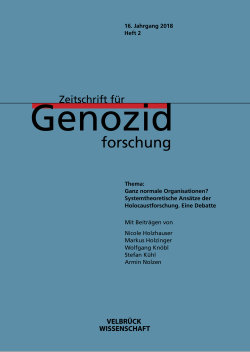 Special Issue: Ordinary Organizations? Systems Theoretical Approaches in Holocaust Studies. A Debate

Articles by:

Nicole Holzhauser
Markus Holzinger
Wolfgang Knöbl
Stefan Kühl
Armin Nolzen


Currently published in the Institutes series: "Genozid und Gedächtnis" / "Genocide and Memory"

The Disasters of War. Perceptions and Representations from 1914 to the Present,
ed. by Steffen Bruendel and Frank Estelmann, Paderborn: Wilhelm Fink 2019

About the book:
"Generations after war and violence the experiences are engraved in memories and influence individual and collective attitudes toward political and social conflicts.
The contributions collected in this volume concentrate on the complex interrelationships between war and its perception and representation. They examine events and cultural testimonies related to World War I, its aftermath, as well as to other violent conflicts in the 20th century. The contributions interrogate the concept of nation, challenge the implications of modern warfare, and discuss political agencies in the media and the arts with regard to soldiers, veterans and war memorials. This volume focuses on how war and violence is culturally processed and reveals astonishing examples of the after effects from 1914 to the present."
Out now: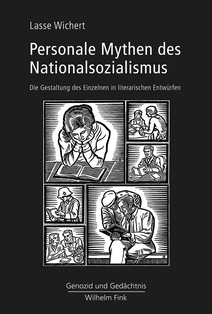 Wichert, Lasse: Personale Mythen des Nationalsozialismus. Die Gestaltung des Einzelnen in literarischen Entwürfen, München: Wilhelm Fink 2018, ISBN: 978-3-7705-6342-5, 19 s/w Abbildungen. 628 Seiten.

Mars, Jupiter, Jena. Zur politischen Poetik des Zukunftsromans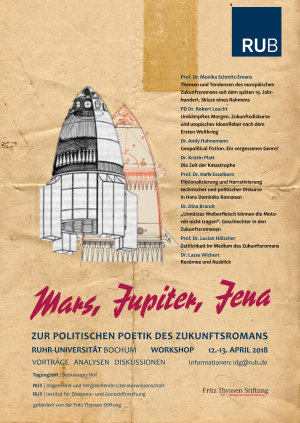 Workshop.

Research project:
Der verdichtete Raum. Sprache, Text und weltanschauliches Wissen in deutschsprachigen Zukunftsromanen der 1920er und 1930er Jahre

funded by the Fritz Thyssen Foundation
April 12th/13th, 2018. Venue: Beckmanns Hof/Ruhr-Universität Bochum

Directors: Dr. Kristin Platt, Prof. Dr. Monika Schmitz-Emans

Dr. Kristin Platt: "The 'Violent Situation'. On participating in collective violence"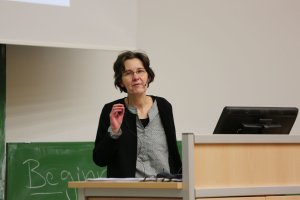 Presentation in the course of the lecture series "Political Violence in the 21st Century".
Now as podcast on "L.I.S.A. - Das Wissenschaftsportal der Gerda Henkel Stiftung".

Lecture Series in the Winter Term 2017/18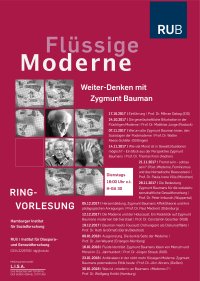 Flüssige Moderne. Weiter-Denken mit Zygmunt Bauman / Liquid Modernity. Thinking forward with Zygmunt Bauman
Thursday, 4:00 p.m. in H-GA 30. Start: October 17th, 2017.

Summer School, 4th to 7th October 2017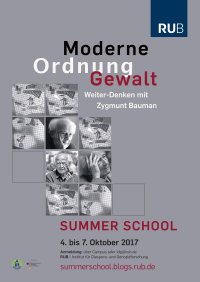 Moderne - Ordnung - Gewalt: (Weiter)Denken mit Zygmunt Bauman

4. bis 07. Oktober 2017

Prof. Dr. Mihran Dabag, Dr. Kristin Platt, Dr. Medardus Brehl

Lecturers: Prof. Dr. Ruth Großmaß (Berlin/Bielefeld), Prof. Dr. Peter Imbusch (Wuppertal), Prof. Dr. Koloma Beck (München), Prof. Dr. Thomas Kron (Aachen)


nach oben