Current Publications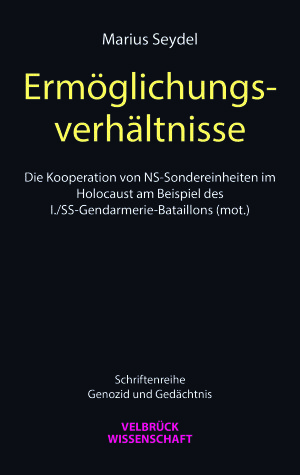 Marius Seydel: Ermöglichungsverhältnisse. Die Kooperation von NS-Sondereinheiten im Holocaust am Beispiel des I./SS-Gendarmerie-Bataillons (mot.), Weilerswist: Velbrück Wissenschaft 2023, 636 pp.(ISBN: 978-3-95832-336-0)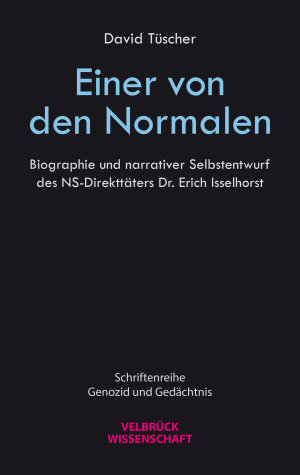 David Tüscher: Einer von den Normalen. Biographie und narrativer Selbstentwurf des NS-Direkttäters Dr. Erich Isselhorst, Weilerswist: Velbrück Wissenschaft 2022, 376 pages (ISBN: 978-3-95832-314-8)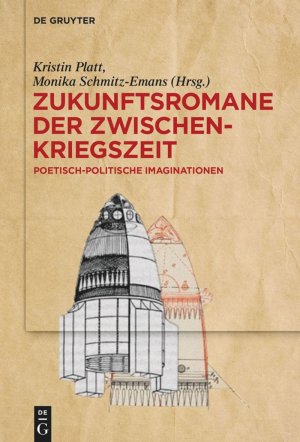 Kristin Platt / Monika Schmitz-Emans (Ed.): Zukunftsromane der Zwischenkriegszeit. Poetisch-politische Imaginationen, Berlin/New York: De Gruyter 2022, 351 pages, Hardcover (ISBN 978-3-11-077093-3)

With contributions from Gijs Altena, Dina Brandt, Medardus Brehl, Hans Esselborn, Lucian Hölscher, Uwe-K. Ketelsen, Kristin Platt, Fynn-Adrian Richter, Monika Schmitz-Emans, Lasse Wichert and Stefan Willer

Doomsdays and worlds without people or with dramatically transformed populations create an arsenal of motifs in early dystopian novels that develops as a complement to the narrative of progress. Numerous dystopian novels are written between the world wars that negotiate nothing less than history itself. The contributions in this volume concentrate on this phase and, alongside German examples, also deal with works written in other languages.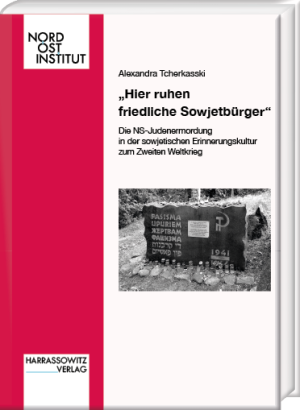 Alexandra Tcherkasski: "Hier ruhen friedliche Sowjetbürger". Die NS-Judenermordung in der sowjetischen Erinnerungskultur zum Zweiten Weltkrieg, Wiesbaden: Harrassowitz 2022. 311 pp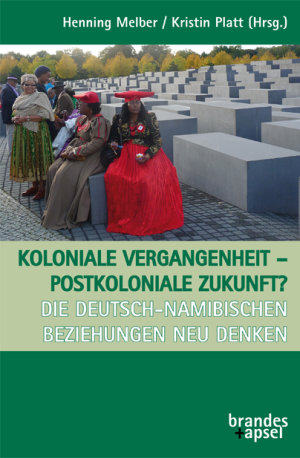 Melber, Henning / Platt, Kristin (Ed.): Koloniale Vergangenheit - postkoloniale Zukunft. Die deutsch-namibischen Beziehungen neu denken, Frankfurt am Main: Brandes & Apsel 2022. 252 pages

With Contributions from Tom K. Alweendo, Rakkel Andreas, Julia Böcker, Medardus Brehl, Sevim Dagdelen, Albert Gouaffo, Dag Henrichsen, Naita Hishoono, Dominic Johnson, Uazuvara Katjivena, Horst Kleinschmidt, Adetoun Küppers-Adebisi, Michael Küppers-Adebisi, Carola Lentz, Henning Melber, Stephan Mühr, Jephta Nguherimo, Kristin Platt, Ruprecht Polenz, Calle Schlettwein, Sylvia Schlettwein, Bernadus Swartbooi, Uwe Timm, McHenry Venaani, Erika von Wietersheim, Olaf Zimmermann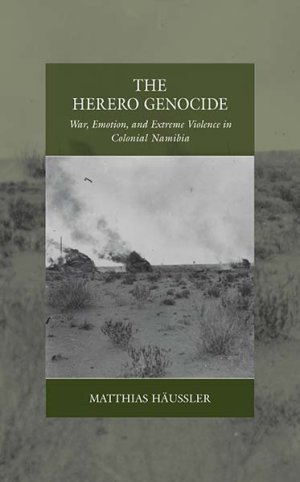 Häussler, Matthias: The Herero Genocide. War, Emotion, and Extreme Violence in Colonial Namibia, Oxford und New York: Berghahn Books 2021

Drawing on previously inaccessible and overlooked archival sources, The Herero Genocide undertakes a groundbreaking investigation into the war between colonizer and colonized in what was formerly German South-West Africa and is today the nation of Namibia. In addition to its eye-opening depictions of the starvation, disease, mass captivity, and other atrocities suffered by the Herero, it reaches surprising conclusions about the nature of imperial dominion, showing how the colonial state's genocidal posture arose from its own inherent weakness and military failures. The result is an indispensable account of a genocide that has been neglected for too long.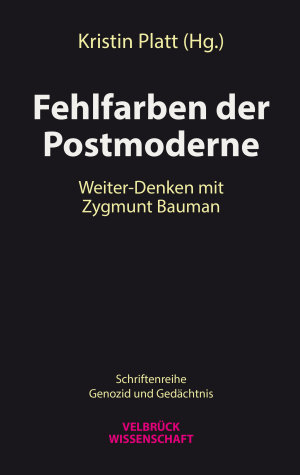 Kristin Platt (Hg.): Fehlfarben der Postmoderne. Weiter-Denken mit Zygmunt Bauman, Weilerswist: Velbrück Wissenschaft 2020, 356 pp.

Contributers: Jörn Ahrens, Constantin Goschler, Ruth Großmaß, Peter Imbusch, Matthias Junge, Wolfgang Knöbl, Thomas Kron, Kristin Platt, Walter Reese-Schäfer, Jürgen Straub, Jan Weyand.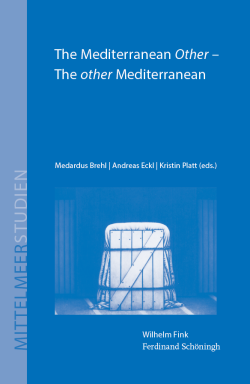 Medardus Brehl / Andreas Eckl / Kristin Platt (Ed.): The Mediterranean Other - The other Mediterranean, Paderborn: Wilhelm Fink/Ferdinand Schöningh 2019, 230 pp, 20 pictures.

Contributers: Cristina Balma Tivola, Julia Blandfort, Medardus Brehl, Andreas Eckl, Paolo Giaccaria, Shlomo Lotan, Anna Piotrowska, Kristin Platt, Christopher Schliephake, Paul Silverstein, Anna Tozzi Di Marco, Felix Wiedemann.

»Today, we particularly encounter the Mediterranean Other in the "refugee". Scientific, political and public discourses on the Mediterranean are - continuously or most recently? - determined by hegemonial perspectives.
Considering other perceptions, interpretations and representations seems to be impossible in light of financial crises, the new South, blurring borders and unclear securities. The contributions in this volume dispute this form of thinking. The research papers do not only encourage the reader to critically examine current political developments. They also provide a framework for Mediterranean minorities, nongovernmental groups and diasporas in search of their own voice.«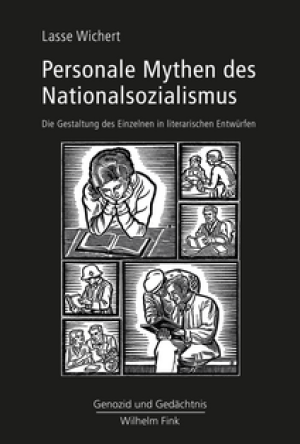 Wichert, Lasse: Personale Mythen des Nationalsozialismus. Die Gestaltung des Einzelnen in literarischen Entwürfen, München: Wilhelm Fink 2018, ISBN: 978-3-7705-6342-5, 628 pp. , 19 b/w pictures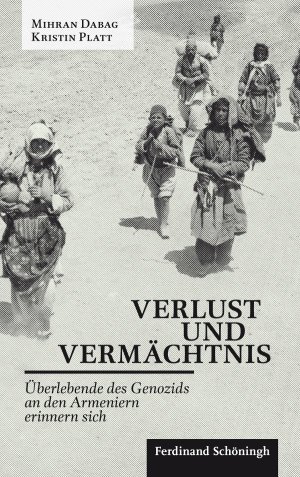 Mihran Dabag / Kristin Platt: Verlust und Vermächtnis. Überlebende des Genozids an den Armeniern erinnern sich, Paderborn: Ferdinand Schöningh (2. Aufl.) 2016 (zuerst 2015)

100 Jahre nach dem Genozid an den Armeniern (1915/16) kommen in diesem Buch Überlebende zu Wort. Sie berichten von den Deportationen, von Todesmärschen, Hunger, unvorstellbarer Gewalt und bitteren Verlusten. In ihren biographischen Rückblicken suchen sie eine Einordnung für eine Erfahrung, die keine Worte kennt.
Die Lebensberichte wurden über einen längeren Zeitraum im Rahmen eines Oral History-Projekts aufgezeichnet und werden jetzt, nach dem Tod der Gesprächspartner, zum ersten Mal als Buch publiziert. Sie bezeugen den Verlust von Kindheit und Familie, von Hoffnungen und Zukunft. Doch gewähren sie auch einen Einblick in die Schwierigkeiten, einen Alltag zurückzugewinnen und ein Leben als Flüchtling zu bewältigen. Bestimmt werden die lebensgeschichtlichen Erzählungen dieser letzten Zeitzeugen vom «Gehen und Gehen» während der Deportation, das über von Leichen gesäumte Wege führte, das Hunger war und brutalste Gewalt.