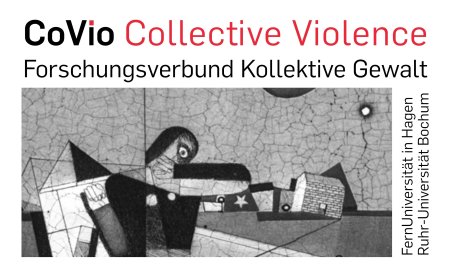 Political crises, exclusion, discrimination, antisemitism, racism, wars – one feature of the challenges of our present time is that they take violent forms, which once again affect us very directly. A team of researchers from the FernUniversität in Hagen and Ruhr-Universität Bochum will meet these challenges head-on. With a targeted combination of interdisciplinary research activities, researchers from the fields of history, sociology, philosophy, educational sciences, political science, and literary studies will work together to explore and develop new ways of creating a strong connection between research, education, and the general public.

Research about forms of violence can only answer the urgent questions that we face today by taking an interdisciplinary approach: How can the memory of the Second World War be preserved? Who will pass down the memory of the Holocaust after the survivors and contemporary witnesses have died? Why do wars seem to "flare up" over and over again? What are the causes of the new forms of political populism and authoritarianism that can be observed today?

Through its especially relevant area of research focus, the Institute for Diaspora Research and Genocide Studies, based in Bochum, contributes interdisciplinary expertise in the fields of political violence, Holocaust, and genocide research. The researchers of the FernUniversität's Faculty of Humanities and Social Sciences bring with them their distinct tradition of research in interdisciplinary cooperations. Together they develop innovative strategies that intensify the transfer of university research to education and policy.

Thus, the goals of the cooperative project especially include establishing a master's degree program that will offer the only continuing education of its kind in Germany on the causes, consequences, and forms of collective violence. Further topics of research will, among other things, be related to the connections between climate, sustainability, religion, and violence.
To understand the complexity and dynamics of political violence, it is necessary to understand identity formation and exclusion as well as to investigate social structures and cultural knowledge. With this alliance, the researchers demonstrate just how much relevant expertise is concentrated in the Ruhr region in particular. But the research group also highlights how universities in NRW in particular see themselves as engaged with the center of social and political questions.

The funding of the research group for the duration of three years through NRW's Ministry of Culture and Science is seen as an important opportunity: This unique alliance forms a sustainable structure to further network research and education in the state. The regional cooperation project actively takes up the challenge of anchoring research and teaching about the structures of collective violence, racism, National Socialism, and the Holocaust in education, schools, universities, and continuing education for future generations, as well as developing questions that can grasp the current challenges of crises and violence, and implements them with a variety of different areas of focus.

Heads of Project
Project staff
Research Group
| | | | | |
| --- | --- | --- | --- | --- |
| Prof. Dr. Tomas Bedorf | | | | Chair of Philosophie III: Practical Philosophy, Technology, History, Society, FernUniversität in Hagen |
| Dr. Jasper Böing | | | | Sociology I: General Sociology and Sociological Theory, FernUniversität in Hagen |
| Dr. Medardus Brehl | | | | Institute for Diaspora Research and Genocide Studies |
| Prof. Dr. Mihran Dabag | | | | Institute for Diaspora Research and Genocide Studies |
| Dr. Anna Daniel | | | | Sociology I: General Sociology and Sociological Theory, FernUniversität in Hagen |
| Liselore Durousset | | | | Sociology I: General Sociology and Sociological Theory, FernUniversität in Hagen |
| Dr. Steffen Herrmann | | | | Philosophie III: Practical Philosophy, Technology, History, Society, FernUniversität in Hagen |
| Prof. Dr. Frank Hillebrandt | | | | Chiar of Sociology I: General Sociology and Sociological Theory, FernUniversität in Hagen |
| Dr. Stefan Klusemann | | | | Empirical Educational Research, FernUniversität in Hagen |
| Dr. Almut Leh | | | | Institute of History and Biography, FernUniversität in Hagen |
| PD Dr. Eva Ochs | | | | Institute of History and Biography, FernUniversität in Hagen |
| Prof. Dr. Risthaus Peter | | | | Chair of Modern German Literature and Media History, FernUniversität in Hagen |
| Katharina Scheerer | | | | Modern German Literature and Media History, FernUniversität in Hagen |
| Dr. Dennis Schmidt | | | | History of Europe in the World, FernUniversität in Hagen |
| Thomas Stöck | | | | Modern German Literature and Media History, FernUniversität in Hagen |
| Prof. Dr. Michael Stoiber | | | | Chair of Political Science V: Comparative Political Science, FernUniversität in Hagen |
| Katharina Storch M.A. | | | | Political Science V: Comparative Political Science, FernUniversität in Hagen |
nach oben
Contact:
University of Bochum
Head: PD Dr. Kristin Platt
Information: Dr. Lasse Wichert
Tel.: +(0)234.32.29705
Mail: covio-idg@rub.de
Universitätsstr. 150
44801 Bochum
Germany

University of Hagen
Head: Prof. Dr. Jürgen G. Nagel
Information: Tabea Buddeberg M.A.
Tel.: +49 (0)2331.987.2122
Mail: karin.gockel@fernuni-hagen.de
Universitätsstraße 47
58097 Hagen
Germany